Hi all,
My name is Jess and along with @ThomasTu, @Joan_Block, @chari.cohen and @Suwang88 I am part of the leadership group for the forum. As many of you may know next Wednesday – July 28th - is World Hepatitis Day! With less than a week to go I wanted to share some resources that the World Hepatitis Alliance (where I work
) have created for anyone who is looking to do something to celebrate the day. The theme for this year is 'Hepatitis Can't Wait' and there are many different ways you can get involved!
It would also be great to hear from anyone who has already planned something for the day and if you have any questions about any of the below ideas please let me know!
Sign the hepatitis elimination pledge
Follow these steps to take part:
Choose your pledge.
Fill in your contact information for updates.
Make your pledge.
Share your pledge on Twitter/Facebook/Instagram/LinkedIn/Whatsapp and ask your followers to join too.
Take part in our World Hepatitis Day global virtual relay and add your voice to show the world that our global community is fighting for hepatitis elimination.
Take a 30-second-long video in which you could tell us what you are doing on World Hepatitis Day, why hepatitis can't wait where you are or what the elimination of viral hepatitis means to you.
You can send your video to us at contact@worldhepatitisalliance.org, using www.wetransfer.com or via Whatsapp to +44 7840 941027.
Take a picture pointing to the time
Point at the time to show the urgent need for action on viral hepatitis.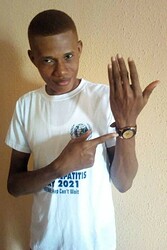 Follow these steps to take part:
Take a photo or video of yourself pointing to the time.
Upload the photo/video to your favoured social media channel(s).
Tag your photo/video with hashtags

#WorldHepatitisDay

and

#NOhep

and add our branded stickers if using Instagram.
Share with your friends and followers.
Frame your Facebook Profile Picture
Add a World Hepatitis Day frame to your Facebook profile picture.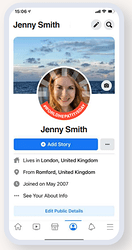 Follow these steps to take part:
Open the Facebook app and to open your profile.
Tap on your profile picture and select 'add frame'.
Search 'Hepatitis Can't Wait' and select from our three World Hepatitis Day frames.
Tick 'Share your update to News Feed' and hit save.
Download the 'Hepatitis Can't Wait' film
Download the new 'Hepatitis Can't Wait' campaign 30 second film to help raise awareness of the urgent need for action on viral hepatitis. This new film is designed for the general public, highlighting the scale of the hepatitis epidemic and urging them to get tested for hepatitis.
Download the WHD campaign materials
Use the official World Hepatitis Day campaign materials to raise awareness online and in your community.
Materials are available to download in a range of languages, or you can use the customisable poster and social media graphic tools to create your own materials in your language.
Create a 30 second Instagram reel
Take to Instagram and create your own Instagram reel to show your followers that you are raising awareness about hepatitis.
Follow these steps to take part:
Open the Instagram app and tap on the reels symbol.
Customise any other settings and hit the record button.
Talk about what you are doing to mark WHD or how hepatitis has affected you.
Search 'hepatitis' in the stickers bar to add the WHD and Hepatitis Can't Wait GIF stickers to your reel.
Cheers,
Jess