Thanks sir.please when is the cure coming?
@Godsown The medical field have been doing research for decades without finding a cure.
We are blessed to have medicine to slow the progression of liver disease,
until they find a cure-A full cure, not functional cure.
In short, we don't know. But there is some progress being made showing positive results.
Thomas
Functional cure sounds good.I think with that at hand hbv will be history soonest
I can't appreciate the effort of the scientist less.You guys are really a blessing to humanity.I wish I can see you one day and pay proper appreciation.i love you all.please can you at least predict a timeline let's hold onto to keep us moving?I know this a tough one I wouldn't mind if not.
Dear @Godsown,
We have seen the (understandable) frustration from many patients in this forum from the failed promises made regarding a lot of antiviral technologies in recent years. At least from my perspective, predicting timelines only causes more anxiety than it alleviates in the community. The pace of drug development is not predictable and can be impacted by many factors.
I know this is not the answer that you (or the patient community here on the forum) would like to hear. I would echo @Caraline's previous comment that at least there are good drugs which can slow (and also stop!) the progression of liver disease.
All the best.
What do experts think of this?
My viral loads has been undetectable for the past three years and I am hoping to quit taking meds after my next checkup next year if my lab work is good.
Any advice?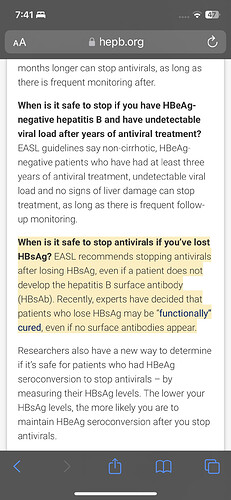 Dear @Grithcel13,
The EASL advice mentions you should be HBsAg-negative before it is safe to stop antivirals. If only your viral load (HBV DNA) is undetectable, then you may talk to your liver specialist about stopping antivirals. It's important you are under very close monitoring during this time as some people can get relapse of the infection and experience severe liver disease.
I want to emphasise the following from previous posts:
Hope this helps,
Thomas
Hi @Grithcel13,
Thanks for your question. I don't think you have to stop you medication because you are undetectable. In other for someone to stop treatment they might have lost their surface antigen, remained undetectable, normal liver function results and liver images for sometime and it has to be done correctly.
I don't think it is advisable to stop treatment because of an undetectable status. If that was the case many patients will have already been off it many years ago. You might want to really work with your provider on this. Don't stop taking your medications without any provider guidance as you might reactivate the infection and it could come back with vengeance.
I hope this helps. Bansah1
Dear @Godsown ,
Have you cleared HBsAg? Stopping antiviral therapy without having achieved HBsAg loss is potentially dangerous, with strong reactivation of HBV infection and liver damage possible.
Let us know.