Thankyou so much, can you help me with what tests should we move further?
Your husband should at least get the following tests: HBsAg, Anti-HBc (total), and anti-HBs. This will show if he has the infection, has been exposed to the virus, and is protected from further infection, respectively. If anti-HBs is low, then it is recommended to get vaccinated.
Hope this helps,
Thomas
Thankyou so much for your reply. I hope my husband is protected.
You are doing great job, helping people in need. People out there do not want to talk about this topic. Thankyou so much. God bless you
@ThomasTu and other experts
Male is negative and the female is positive.They had sex using a condom.The female took the condom off the male private part for dispose and use one of her hands to clean the the semen on his private part including the dripping semen in a quick one hand scrub just once .is there a chance of hbv transmission?
Hi @Godsown,
From this description of the interaction, it doesn't sound to me like there is any significant likelihood of transmission from the female to male.
Thomas
I can't appreciate you enough.God bless you sir
@ThomasTu Good morning,if one has it's haircut in a public saloon(barbershop), where the use same clippers on every customer.Only form of sterilization the barber does is burning the clip of the clippers with lighter before cutting a customer hair.what are the chances of hbv transmission here?
Is there a chance that,she touching the used condom when removing for disposal,and using one of her hands to clean the penis including dripping semen from the penis tip in a quick one hand scrub down once, that her hand may gets contaminated while removing the condom and may infect the male during the one hand quick scrub down just once?
Hi @Godsown,
Indeed, barbershops can be a potential site of transmission. It is best to sterilise equipment used between each person, it doesn't sound like putting a lighter on it is sufficient.
If there is no break in the skin, the chance of transmission is negligible in this case.
@ThomasTu Constant fear of transmitting the virus
Sorry I'm not antagonizing you sir, you said there that the chance of transmission of hbv from such a cut is very very low.pictures below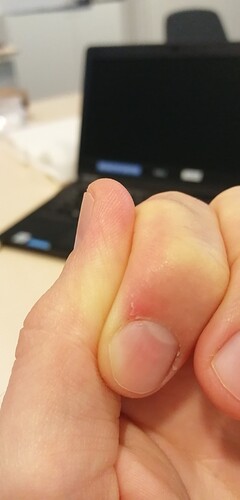 I think because it's a trace of blood, coming to the barbers clippers transmitting hbv,I think if there's any blood on the clippers it should be trace I guess and he still has to burn it with a lighter.i'm getting confused now
Dear @godsown,
The difference in the barbershop case is that the clippers are implement that can cause cuts and transfer any trace amounts of blood to people much easier.
When you have a cut on your finger, you are not pushing it into other people's cuts. That is the difference. Moreover, if you are taking medication such as tdf, your viral load is generally low and the risk of transmission is therefore low. At the barber, you cannot be sure who is on medication and who isn't (or even who knows they have HBV and who doesn't).
Hope this helps explain the reasoning behind my comments,
Thomas
I appreciate sir❤️.God bless you
@ThomasTu what about HIV and hcv transmission in this scenario.sorry for my silly questions
Hi @Godsown,
The risk of transmission with HIV and HCV are generally lower than compared to HBV.
Thomas
Thanks sir.you have been saving a life here.God bless you.Can you elaborate a little please
The amount of virus circulating in the blood of people with HIV or HCV is generally lower compared to those with Hepatitis B.
General high viral load of HIV = 500 000 viruses/mL of blood
General high viral load of HCV = 1 000 000 viruses/mL of blood
General high viral load of HBV = >100 000 000 viruses/mL of blood (200 times higher than HIV, 100 times higher than HCV)
If there is less virus, there is less chance of transmission.
Thomas
Hi thanks for accepting me
I am medical intern and I have a fear of transmitting hbv to others I am not hbv positive but in my country there is no care for hygiene you can see spill of blood in street so for example if I stepped on something bloody without noticing the blood is dried and I went home will the stairs or anything that touched my shoes will also be infectious if it's not frankly blood stained?
Hi @Mohammed_Yassin,
I think this method of spreading HBV would be very inefficient. As long as you wash your hands with warm soapy water, I would not worry about this being a potential way to infect people.
Thomas
Greetings @ThomasTu if someone is on tdf for hep b and the individual went for HIV test will that affects the HIV test, like false Negative or so.(Note: the type of test carried out for HIV in the individual location is RSVT)
Hi @Godsown,
TDF should not affect the HIV test, as TDF stops new cells from being infected with HIV. I don't think that the HIV RNA (which is tested by PCR tests) and antigen/antibody (tested by lab or rapid tests) should not be affected.
Hope this helps,
Thomas